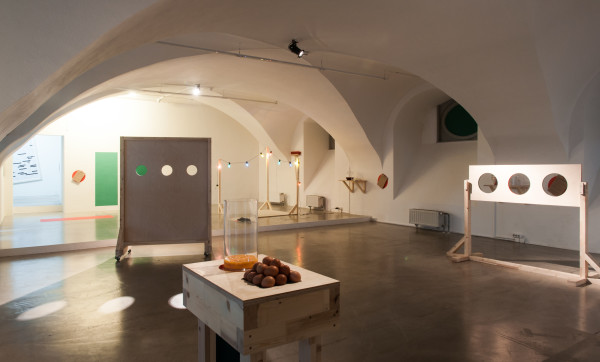 The Seed Eaters, 2017, performance and 17 sculptural sets
With: Alex Binder, Anja Mörk, Anna Lackner, Christoph Glanzer, Dennis Ferescu, Elisabeth Steiner, Eva Spitzer, Hannah Kren, Julia Holzer, Linda Konrad, Margot Maass-Goettsberger, Marwin Strutz, Monika Schabus, Oliver Posch, Sinisa Savic, Thilo Grassmann & Wera Köhler
Written by: Emily Mast & Rachel Kauder Nalebuff
Sets: Emily Mast, Chris Kern, Lucas Littlejohn
Sound: Manuel Alcaraz Clemente
Costumes: Nicolette Henry
Graphic design: Marc Hollenstein
Translations: Victoria Dejaco
Menu: Fiona Hallinan
Production: Grazer Kunstverein & the Steirischer Herbst Festival
Thirty-three mini scenes, seventeen sculptural sets, two local languages and continually shifting roles: The Seed Eaters is a deconstructed play that explores different ideas about "The End." The performance unfolds as a collection of vignettes—ranging from a scene about illness, to a disappearing moon, to the lifecycle of a swimsuit—that players select and perform, before switching roles and performing everything once again in a second language. The meaning of each performance is determined greatly by each group of three players, all of whom are local residents of the city in which the piece is performed.
Inspired by the awkward and sometimes dangerous space that separates strangers, The Seed Eaters plants connections between people to engender collusion, teamwork and blind hope, in a social and political moment when it feels like the world might be falling apart. The Seed Eaters creates and holds a space where language, objects, and participants' personalities have equal value, if only for a moment.