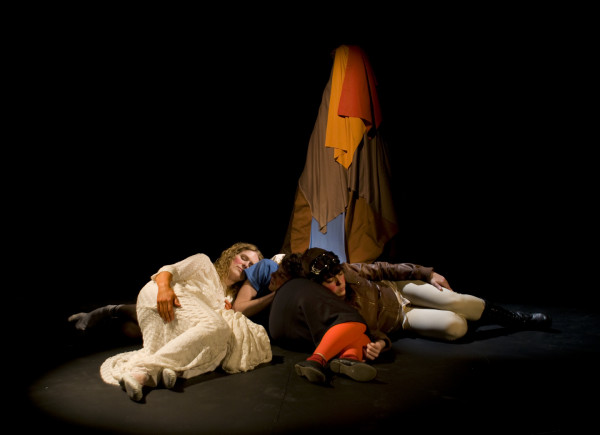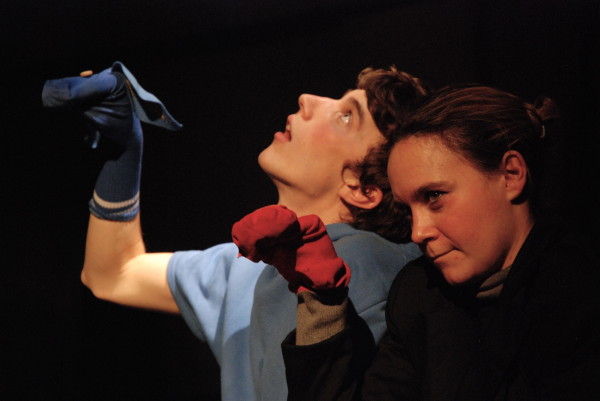 Everything, Nothing, Something, Always (Walla!), 2009, performance, 3 hours
With: Julie Kelderman, Leemore Malka, Lisa Reynolds, Phillip Gulley & Zoe Anastassiou
The Artificial Audience: Benji Jeffrey, Chinaza I. Uche, Claudia Turbides, Inuka Griggs, Jennifer Cendaña Armas, Jihan Ponti, Julia Sirna-Frest, Kent M. Lewis, Lydia Cortes, Maura Hooper, Nathan Douglass & Ravin Patterson
Composer: David Perlis
Lyrics: Rene Daumal
Accordion: Melissa Elledge
Stage manager: Allison Bayles
Set & props: Preeya Jensen
Lights & sound: Andrew Lala
Costumes: Loren Shaw
Presented at: Performa 09 at X-Initiative in New York, New York
Everything, Nothing, Something, Always (Walla!) is a timebased installation that is comprised of a one-act theatrical play that loops live over a three hour period. Each of its nine iterations varies slightly as a necessary result of its serial repetition. The play simultaneously functions as a performative "sculpture" in the center of the exhibition space, visible from all angles. The central concerns of the work include: a distinct distrust of both certainty and the ideal of truth; the imprecision of language; and the ways in which the polyphonous references that influence a work become the primary terrain for an articulation of confusion as not only an essential condition for artistic production but also its subject.