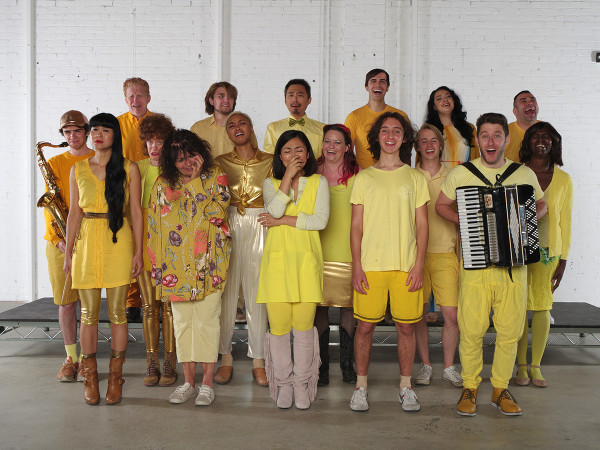 Ashes In I's, 2018, two-part performance, 60 minutes
With: Alan Chan, conductor
Chorus: Brandon Bailey, Caleb Alexander, Christine Morse, Christoffer Schunk, Dorette Young, Erik Friestadt, Hatt Merlino, J. Orpilla, Johanna Yukiko Haneda, Julie Mayer, Leopold Soares, Marja Lisa Kay, Mike Price, Moni Olguin, Noah Schwartz, Paul Bacon, Renee Kalos & Tatiana Louder
Production: FLAX (France Los Angeles Exchange) & The City of Santa Monica
This chorus of 18 people uses notations and structured free improvisation to create a landscape of experimental sounds that oscillate between laughter and weeping. A number of subjects drive the research behind Ashes In I's, including: the history of theater, Pauline Oliveros's Deep Listening practice, the neuroscience behind laughter and dopamine production, the tradition in many cultures of hiring professional weepers to cry at funerals, physical contagion (i.e. yawning), emotional contagion (i.e. giggling), crowd behavior, mob psychology, and current societal preoccupations with The End (The Apocalypse).